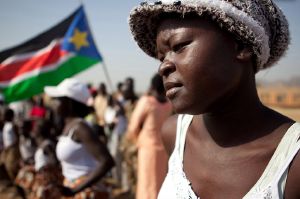 How will the world's newest nation address HIV/AIDS?
The timing couldn't be worse.
South Sudan will officially achieve its hard-won independence this Saturday. Just three weeks later, on July 31, the country's only funding to provide antiretroviral treatment to nearly 5,000 Sudanese living with HIV/AIDS will expire.
What's more, say Sudanese government officials and international development experts, South Sudan is likely to experience a sizable spike in new HIV infections as refugees return to the war-torn nation.
"The new nation of South Sudan is faced with the huge ethical dilemma of how to continue [antiretrovirals] to patients currently on treatment," said Madelena Monoja, the United Nations Development Programme coordinator in Juba who oversees the Global Fund grant that provides the region's AIDS medication.
With no assurance that new money will arrive, those already on treatment could experience "a huge gap in service delivery," said Monoja. Expanding antiretroviral access to the additional 41,500 people who need it will be impossible. And ramping up HIV prevention and care for the hundreds of thousands of people returning to South Sudan will be out of the question.
Advertisement
A Changing Landscape
More than two decades of war kept Sudan relatively isolated from the HIV epidemic that ravaged its neighbors in the Democratic Republic of Congo, Kenya and Uganda. That changed in 2005, when leaders from the north and south struck a peace deal. Since, an estimated 300,000 people have returned to South Sudan, according to the UN Refugee Agency. Another 100,000 are expected.
In June, at the UN High Level Meeting on HIV/AIDS, the head of the delegation of Sudan, Majeed Youssif, warned that South Sudan will "likely experience a rapid increase in HIV prevalence" as people return. He estimated that the rate could jump from about three percent today to six percent by 2015.
AIDS service providers confront a daunting treatment and prevention landscape: The isolation that once stopped the spread of HIV has created a population with scant knowledge of the disease. Condoms, often associated with promiscuity, are not used widely. And after losing so many sons and daughters to violence, many are reticent to use birth control.
Seventy-five health centers provide HIV counseling and testing across South Sudan, but that number is tiny in a nation the size of Texas. HIV stigma is widespread, according to data collected by the South Sudan AIDS Commission. No information exists on HIV prevalence among LGBT people, but there is a strong bias against homosexuality in the region, making it difficult to educate LGBT people about prevention.
War has stunted South Sudan's infrastructure. Doctors are scarce, and mountainous terrain and large expanses between remote regions make health care difficult to deliver.
Progress in Peril
Today, only about 10 percent of the 46,500 Southern Sudanese eligible for antiretrovirals receive them. Still, that number represents a tremendous increase from just four years ago -- and is possible because of a Global Fund grant that began in 2006.
With that grant scheduled to end this month, the fate of those nearly 5,000 people hangs in balance. The South Sudan health ministry and UNDP have applied for an emergency grant from the Global Fund to continue service for two years. Now, they wait anxiously to hear if it will be approved.
"HIV is linked to broader goals," said Joe Amon, director of the health and human rights division at Human Rights Watch. "For South Sudan to be an economically strong nation, part of that is addressing HIV. ... It's a question of whether donors are going to follow through on their commitments."