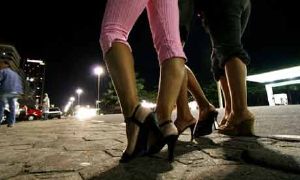 A law that requires AIDS organization to oppose sex work could go to the Supreme Court.
Good news for AIDS activists and supporters of free speech: Today, a federal judge struck down a provision of the U.S. Leadership Act that requires AIDS organizations receiving federal funds to explicitly oppose sex work.
The decision could have significant impact: All U.S. aid that goes toward fighting AIDS, tuberculosis and malaria worldwide -- including PEPFAR money -- is authorized under the U.S. Leadership Act of 2003.
Read the text below from legal blogger Howard Bashman:
"The majority on a divided three-judge panel of the U.S. Court of Appeals for the Second Circuit today issued a ruling that strikes down as unconstitutional a provision of a federal statute that denies federal monetary assistance in the fight against AIDS to any organization "that does not have a policy explicitly opposing prostitution and sex trafficking."

According to the majority opinion, this requirement constitutes an unconstitutional condition because "[c]ompelling speech as a condition of receiving a government benefit cannot be squared with the First Amendment." The majority opinion also condemned the requirement as "viewpoint-based, because it requires recipients to take the government's side on a particular issue. It is well established that viewpoint-based intrusions on free speech offend the First Amendment."

According to the dissenting opinion, today's Second Circuit ruling conflicts with a ruling that the D.C. Circuit issued in 2007. For that and other reasons, this case may present a strong candidate for U.S. Supreme Court review should the federal government so request."
How has this law affected your organization? Email Julie Turkewitz at j.turkewitz@housingworks.org.

This article was provided by
Housing Works
. It is a part of the publication
Housing Works AIDS Issues Update
. Visit
Housing Works' website
to find out more about their activities, publications and services.
(Please note: Your name and comment will be public, and may even show up in
Internet search results. Be careful when providing personal information! Before
adding your comment, please
read TheBody.com's Comment Policy
.)