July 7: National Call-In Day to Support HIV/AIDS Programs
By Candace Y.A. Montague

July 7, 2011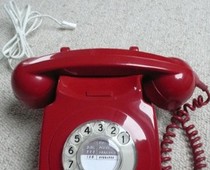 Take five minutes and make a difference. Credit: flickr.com.
Calling all five minute activists! If you can spare a few moments in your day today, you can help make a difference. Today is National Call-In Day to pressure members of Congress to spare crucial safety net programs that will help men, women, and children living with HIV/AIDS. Congressional negotiations to reduce the federal deficit have slowed down. These negotiations could benefit Medicaid, the Ryan White Program, housing, and other critical programs. Now National Minority AIDS Council (NMAC), AIDS Alliance, and other local AIDS Service Organizations need your help to to get the ball rolling again before the vote on August 2nd.
What to Say
Here's a very brief script, suggested by NMAC, that you can use when you call in. Of course you can also use your own information.
"I am calling to ask Senator Reid/Speaker Boehner/President Obama to prevent harmful cuts and caps to health care and low-income programs, including those that impact persons living with HIV/AIDS, such as the Ryan White Program, Medicaid, housing and prevention programs!
Balancing the budget on the backs of vulnerable Americans, including those living with HIV, is wrong, will potentially cost lives, and will cut jobs in the health care and human needs sectors.
Early and reliable access to HIV care, treatment, and support helps people with HIV live healthy and productive lives and is cost effective. Investing in HIV prevention today translates into greater health and less spending in the future.
In my state/district, such programs are greatly needed, because (insert local details or tell personal story).
If you have questions, please contact __________________________, thank you!"
What Number to Call
Senate Majority Leader Harry Reid (D-NV): 202-224-3542
House Speaker John Boehner (R-OH): 202-225-0600
President Barack Obama: 202-456-1111 (Please note that it may take several minutes to be connected to a live operator to leave your message. These calls must be placed prior to 5pm EST as the White House comment line closes for the day at that time.)
You've got your marching orders. Now hop to it.
Get e-mail notifications every time Candace's blog is updated.
---
| | |
| --- | --- |
| No comments have been made. | |
Add Your Comment:
(Please note: Your name and comment will be public, and may even show up in
Internet search results. Be careful when providing personal information! Before
adding your comment, please
read TheBody.com's Comment Policy
.)