Good Work Was Done
By Don Smith

July 6, 2011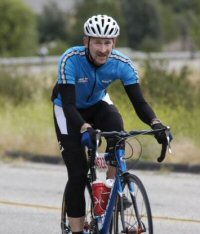 Don Smith
There are many amazing and memorable moments that occur during an event like Race Across America. Some of those moments are very public, like posing for photos at the finish line or the cheering of spectators along the way. Other moments are very personal and far from the glare of spotlight; it is these moments that are most meaningful to myself when I reflect on my week with my team at RAAM. In particular, there was one very special chance meeting with a man that happened to me in middle America.
I rode into a timing station located somewhere in small-town Missouri. I was surprised to see spectators there since it was such a warm day. One of our crew brought over a spectator and told me that this man had been waiting hours for our team to arrive and that he wanted to give us some gels that he purchased for us. I did not want what he offered me but I took them anyway and thanked him for his generosity. The crew member left us alone and I was getting ready to dismount my bike and walk away when the man pulled me closer. I don't remember everything that he said but the key point to his story was about the many challenges he faced as an HIV+ man in living in small-town America. How he had to keep his health status a secret and therefore felt quite isolated and alone within his community. In fact, all of his medical treatment was conducted clandestinely in the closest urban center. He then told me that our team's participation in RAAM had inspired him and given him hope. I could see the tears welling up in his eyes. He gave me a big hug and then slipped off into the milling crowd at the timing station.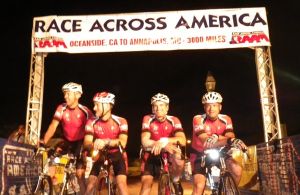 Team4HIVHope at the finish line.
To me this was the true purpose for doing RAAM. To be able to touch one person's life in a way that inspired them or at least gave them some hope. Everything else (and there is a lot) is just a whole lot of icing on a very large cake.
Good work was done by the Team4HIVHope and I am honoured to have been a part of it. The only question that it leaves me with is, "what now"?
Get e-mail notifications every time Team4HIVHope's blog is updated.
---
Add Your Comment:
(Please note: Your name and comment will be public, and may even show up in
Internet search results. Be careful when providing personal information! Before
adding your comment, please
read TheBody.com's Comment Policy
.)