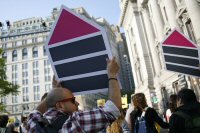 Housing Works rallies for AIDS housing funding.
After weeks of City Council budget negotiations, Speaker Quinn and Mayor Bloomberg came to an agreement late Friday on the city budget.
The good news? Although the city has not released official budget documents, representatives of City Council members have said the council will fully restore funding for HASA's supportive housing at $5.1 million. This is a victory for the lowest income New Yorkers living with HIV/AIDS, as well as their advocates.
In addition, the representatives report that funding for HASA's food and nutrition program, run by the Momentum Project, was included in the final budget. The total funding amount needs to be confirmed.
Lastly, the client advocacy and representative payee program that is administered by GMHC has also been partially restored.
Advertisement
The bad news? HASA clients are still going to be subject to new policies that limit HRA's contribution to broker's fees at half a month's rent. This policy is going to prove detrimental to clients' ability to find housing. It will ultimately cost the city more money by keeping people in emergency housing for longer periods of time. This policy is something that tenants and advocates will continue to work on with HASA and the City Council.
No news yet on funding for several City Council initiatives -- the Injection Drug Users Health Alliance (IDUHA), HIV Literacy for Older Adults, and communities of color funds among them.
The Finance Committee will meet Tuesday at 10:00 am, and the City Council will vote on the budget at a meeting tomorrow afternoon. More reports with detailed numbers will be available at that time. Stay tuned!
Read previous reporting: Bloomberg Takes Ax to Supportive AIDS Housing Services
Follow the Update blog on twitter @housingworks.