We Finished the Race Across America!
By Steven Berveling

June 29, 2011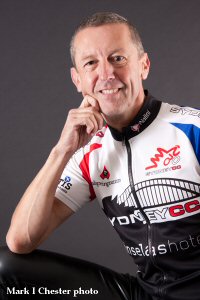 Steven Berveling
Team4HIVHope, the 4-person cycling team with 3 HIV+ racers and many of the crew members living with HIV, successfully completed the Race Across America. We took 6 days, 6 hours, 34 minutes to race from Oceanside, Calif., to Annapolis, Md., a distance of 3,000 miles.
We came 8th out of about 30 and are very happy. The support and encouragement that we received throughout the Race from the organizers and from the other teams was so wonderful -- it confirmed that our reasons for competing were correct: to show that HIV is not an impediment to doing very tough endurance sports; and to get rid of stigma against people with HIV.
The Race was amazing. From our perspective it was really just one very long day with 6 sunrises, during which we raced, ate, slept a bit, raced, ate more, slept a bit less, and raced, ate, and slept hardly at all! We lost nearly all sense of time.
The 4 riders were divided into 2 teams of 2, and each sub-team was responsible for a shift, which was the distance between time stations (there were 54 time stations and the distance between them varied between 40 and 75 miles). During "their" shift the 2 riders changed over consistently (our ball park distance per pull was 5 miles, but that changed in the flat desert to up to 8 miles, or down to 1/2 mile at the very top of the Rockies). The individual pulls were usually 11-15 minutes long, but occasionally much longer.
Food and drink-wise, we each consumed about 7,500 calories per 24 hours. I made a point of having an energy bar or gel bar after every 2 pulls if not more frequently, and a bidon [a cyclist's water bottle] with energy powder each 2-3 pulls. Immediately upon getting off a shift I'd drink a 1-1/2 x concentrate Recovery protein drink and eat a substantial meal (400-600 calories) of real food. Before a shift, I'd eat a lighter breakfast meal (bowl of cereal). I'd drink water whenever I'd see it.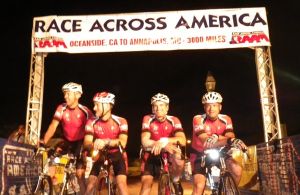 Team4HIVHope at the finish line.
The medications were a bit more challenging, but again we did those according to a pattern: I'd take headache and anti-inflammatory roughly 3x per day and did not care if there is a double up (it's only a week), and I took my HIV tablets immediately upon completion of an evening shift.
I learnt the hard way that I could not ride for about 2-1/2 hours after taking my HIV tablets. I take Sustiva, and shortly after taking them on the 1st evening I could not identify the location of vehicle lights (headlights or taillights) relative to me -- not good for a cyclist! The nurse on our crew kept a good watch on me thereafter to ensure the proper timing of those tablets relative to my cycling.
In many ways, the whole experience was akin to being stuck in your home laundry with 10 other people, whilst traveling at an average speed of 20mph. We all had some low points, both racers and crew, but collectively we pulled each other through this, with the one goal in mind: get to the finish line!
The scenery? There was a lot of asphalt with a white line. The California desert was just that: desert with a few rocks. The Arizona desert was barren with all rocks. Large cacti grew to hide the cowboys. The cross wind was 50mph for a 3-hour segment: very scary for a lightweight whippet like me! The Rockies were beautiful but high -- we went over the lower passes which were merely 10,500 feet high. Kansas: flat, brown, corn, great tail wind! Mississippi River is enormous. Missouri was pretty; Ohio had some interesting spots. At the end of the route, the Appalachian mountains in Pennsylvania were lots of steep hills. And by definition, the finish line was beautiful!
Get e-mail notifications every time Team4HIVHope's blog is updated.
---
Add Your Comment:
(Please note: Your name and comment will be public, and may even show up in
Internet search results. Be careful when providing personal information! Before
adding your comment, please
read TheBody.com's Comment Policy
.)