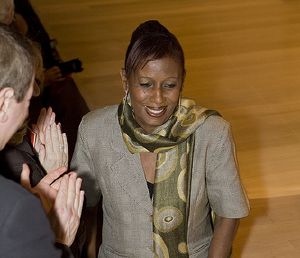 Boucicault deserves applause for telling the truth about this week's UN Declaration.
In an emotional speech this afternoon at the UN High Level Meeting on AIDS, Haitian AIDS activist Esther Boucicault expressed her gratitude for international aid to Haiti while criticizing the world body's short-sightedness on housing and transgender issues. To the dismay of AIDS advocates, the new UN Declaration on HIV/AIDS to be released this week does not include housing as part of its "effective global response" to AIDS, nor does it make any reference to transgender people, who are at high risk for HIV.
Regarding the UN Declaration, Boucicault said, "I must express my grave disappointment that housing and transgender people were deleted from the Declaration agreed upon this week … While we all know the critical role of housing as a proven structural intervention essential for all people livingwith HIV/AIDS, who in this room could possibly object to the inclusion of housing as a basic necessity for people living with HIV? Also, an entire class of people at high-risk for HIV has been excluded because of our society's discriminatory beliefs about gender. As someone who lives with HIV/AIDS, I'm fighting for life and freedom, this is why I'm here."
Boucicault's speech also emphasized the precariousness of life in Haiti for women and girls. The aftermath of the earthquake has forced many women and girls to exchange sex for food and shelter and exposed them to sexual violence in unplanned encampments. The Haitian activist reminded world leaders, as well, that people's lives should be put ahead of patents in order to get desperately needed second-line treatments to the developing world.
Read the rest below.

This article was provided by
Housing Works
. It is a part of the publication
Housing Works AIDS Issues Update
. Visit
Housing Works' website
to find out more about their activities, publications and services.
(Please note: Your name and comment will be public, and may even show up in
Internet search results. Be careful when providing personal information! Before
adding your comment, please
read TheBody.com's Comment Policy
.)