HIV Frontlines: Executive Director of New Jersey Women and AIDS Network Talks About Gender Issues and Obstacles to HIV Prevention
A Conversation With Monique Howard
June 21, 2011
This is Kellee Terrell reporting for TheBody.com, and welcome to HIV Frontlines. Today, we will be speaking with Monique Howard, the executive director of the New Jersey Women and AIDS Network (NJWAN) in New Brunswick, N.J. Good morning, Monique. Thank you for joining us.
Thank you very much, Kellee. Thank you for having me.
So, let's get started. When did you begin working in the HIV field? And why?
Advertisement
Well, it's a long story. And just to give a background of who I am, and how I got here: I graduated from college in 1989, and I started working in a reference laboratory, which is now Quest Diagnostics; it was, at the time, MedPath Labs in Peterborough, N.J.
I worked in a laboratory specifically identifying microbacterium, which is the organism that causes tuberculosis, or TB. That's my specialty. We were getting a lot of specimens from the largest city hospitals in New York, and large urban hospitals in New Jersey. And we started noticing that my department and virology were sharing a lot of the same specimens. Virology was doing antigen testing for HIV and a lot of the HIV tests, as well, very early on.
My specimens that they would borrow would be positive for HIV antigens, and their specimens that they would borrow from us would be positive for TB. So we were starting to look at the relationship between TB and HIV. This was '89, '90, and '91.
Low and behold, since we're grunge workers in the basement of a whatever, no one pays us any attention. But we saw that there was an interconnectedness between HIV and TB. When I first started working at the lab, we had 60 specimens on an average day to test for TB; 100 was a high day. And by the time I left, which was about three years later, 220-250 specimens were the average day, and 300 was a heavy day.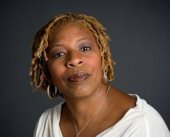 Monique Howard
So we quadrupled the amount of specimens that were coming in, and then we also quadrupled the number of specimens that were positive. I really was interested in: What is this HIV thing?
I was born and raised in New York, but the impact was a lot bigger then than media was paying attention to. I went back to get my master's degree. I have a master's in public health, community health education, because I really wanted to look at, or examine, the role HIV was playing, particularly in communities of color. Because that's where these hospitals were. Most of the people that were using the city hospitals at the time were in communities of color, people of color.
That's where I started. Took some fabulous classes. Had a wonderful internship at Newark Beth Israel Hospital in New Jersey. So, I started working with women and HIV-risk-reduction programming at that time. And then worked with some federally funded researchers who created curricula around HIV-risk reduction, pregnancy prevention, and all the other issues that fall under the umbrella of sexuality.
I went back for my doctorate in education with a focus on human sexuality in program design; happened to have come across NJWAN along the way in my travels. I did my first workshop at one of their conferences in the early '90s; was excited that the organization was there; and ended up on the board, and in the position of executive director. I've been here since February 2003. It's been a wonderful ride thus far. The organization does phenomenal work. That's kind of how I got here. I've always been interested in the role that I can play in helping communities of color address the issues of HIV.
What does the New Jersey Women and AIDS Network do for its clients?
New Jersey Women and AIDS Network, or NJWAN, has been around since 1988. It was started from a small group of service providers because they understood the role that HIV was going to play in the lives of women, particularly women of color, in the state of New Jersey. And so, very early on, it started out as a type of service providers' organization. It was around capacity building -- although that wasn't the word to use at the time. But it was to provide women-serving organizations with the skills to manage the influx of women that were going to come in that were HIV positive, and to provide AIDS service organizations with the skills to provide services to the number of women that were going to be coming in.
And then the numbers began to increase disproportionately, and service providers were not able to handle the number of women that were infected. We became then a service-providing organization. So by the end of the '80s, we were providing a program called Sister Connect. Sister Connect was a support group/life preparation course that was six months long that met twice a month for about four hours. The question is: Why did it last four months? Because that was the amount of time a woman had from diagnosis to death. And Sister Connect was the bridge between that. We still have some graduates that are alive; so we have some graduates that are 23, 24 years into the making of NJWAN.
That's what it did. It provided a level of support and encouragement and empowerment that other organizations didn't do. And so my work here is not necessarily just about creating a program, but creating a program that embraces women and supports them throughout their life of HIV, and living.
It's so interesting because you're talking about the late '80s, and having these programs for women. And yet, the media really didn't make the connection that HIV was a women's issue during this time.
I'm not quite sure they've made it in the 2011s, either. But what was going on in the '80s is: Unfortunately, we spent those 10 years hunting, looking for the needle in the haystack, and what was the real connection. And is it these people? Or those people? Or whose people?
Women, we're nurturers by nature. That's what we do. We nurture, and we take care of. And so when we're sick we put it on the back burner to take care of other people. We were infected with HIV, but we were taking care of our loved ones, and the majority of them are males who were infected with HIV. So that's what we were doing. And women's health issues don't get the attention that generic health issues get. By that I mean the other health issues that affect both males and females.
But the women-specific ones do not get that level of attention. And so the attention was brought to the four Hs: hemophiliacs, heroin addicts, homosexuals, and the ...
Haitians?
Haitians, yeah. That's where the attention was. So the attention was not on women. And it still isn't.
More From This Resource Center
---

This article was provided by TheBody. It is a part of the publication
HIV Frontlines
.
---
Comment by: David nk khaemba
(ZIWANI) Wed., Jan. 15, 2014 at 6:48 am UTC
I have read the articles concerning HIV/AIDS its definition awareness prevention,adherence to drugs the recommended ARTS its so wonderful and great if all people of the world would bare in mind and body on how to prevent ,care for the infected through financing,emotional ,social and material support
Comment by: cheryl
(newark) Tue., Oct. 4, 2011 at 1:51 pm UTC
this is so boring. you don't know what women with hiv want. I got your email and i thought it was for me and so i pressed on it and it was not. you have to help women with hiv not write about "gender issues". that is not what i signed up at the site to see! i am so disappointed
Add Your Comment:
(Please note: Your name and comment will be public, and may even show up in
Internet search results. Be careful when providing personal information! Before
adding your comment, please
read TheBody.com's Comment Policy
.)