AIDS at 30: Views From the Community -- Mark Fischer
By Candace Y.A. Montague

June 4, 2011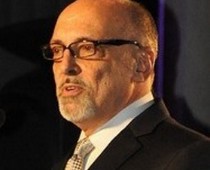 You are the solution to the spread of HIV says Fischer. Credits: Mark Fischer.
Today's guest commentator is Mark Fischer, Executive Committee Member of the Ryan White Planning Council for the DC Metropolitan Region. Mark has lived in Washington, DC since 1978, been HIV positive for more than 25 years and has been involved in HIV efforts since the beginning of the epidemic. He sees himself as a "human being, first and foremost ... all the rest, being male, White, gay, etc. are just accidents of birth for which I deserve neither privilege nor blame." As such, he is committed to meeting the needs of all people living or at risk of infection with HIV throughout DC and this region as well as elsewhere.
On this occasion, it would be easy to look back and mourn the hundreds of dear friends and valued associates I have lost too soon to AIDS or try to describe the persistent sense of loss and loneliness those absences in my life cause me daily. I could honor the valiant efforts made by millions fighting the epidemic and supporting those living with HIV or suffering from AIDS or recount the progress made by science and medicine in creating better treatment and more effective medicines with fewer harsh side effects. I could even cite the "progress" and the "positives" of the past.
However, as one who works daily with services to people living with HIV and AIDS, I am troubled, frustrated and to an extent angered by the lack of change over the last 30 years. When it comes to stopping the spread of HIV, we have made so little progress, a fact proven by the horrifying number of new infections still being diagnosed and the massive numbers of people who don't know their status.
I ask "Why are so many people still making such bad choices so often?"
Why do people spend so much time and energy looking for excuses to engage in risky sexual behaviors instead of creating pleasurable new safe ones?
Why do people care more about keeping a clearly disrespectful partner who demands sex without a condom than about preserving her/his own personal health by saying "No condom, No sex"?
Why do people, especially those who call themselves "advocates" and "activists", still hide their own truth and empower HIV stigma because they are afraid to let people know they are HIV+?
Why do so many fail to challenge ministers, churches, and neighbors who practice homophobia which leads to HIV ignorance and HIV stigma?
Why do we allow elected leaders to give little more than lip service to HIV leadership but shrink from the politically risky responsibility to speak out and challenge community attitudes and behaviors that spread HIV?
In spite of significant medical progress, public ignorance and irresponsibility continue to fuel the spread of the HIV epidemic.
Starting now, coddling the general public and allowing dangerous rationalization and self-denial must stop! Yes, encouraging people to get tested and reassuring them that life will be okay regardless of the outcome is essential. Yes, counseling those newly diagnosed and living with HIV is crucial. Yes, working to ensure the needs of all people living with HIV and AIDS are met is crucial. However, infection with HIV is no cakewalk and avoiding it must become a widely-accepted and top personal priority all across society.
The facts are clear. Each person, all by her/himself, has the power to avoid HIV infection. Each person, all by her/himself, has the power to prevent HIV infection. More than government programs, medical research or any action of another person, the key to ending the spread of HIV and AIDS lies within each of us. Ending the spread of HIV depends on accepting personal responsibility, managing personal behavior and making the right personal choices.
Let's turn that finger around. Quit pointing to others. It's time to realize, "I am the solution to the spread of HIV." and to commit to acting accordingly.
Feel free to post your comments about Mark's post below. More posts about AIDS at 30 are forthcoming.
Get e-mail notifications every time Candace's blog is updated.
---
| | |
| --- | --- |
| No comments have been made. | |
Add Your Comment:
(Please note: Your name and comment will be public, and may even show up in
Internet search results. Be careful when providing personal information! Before
adding your comment, please
read TheBody.com's Comment Policy
.)