How I -- and Team4HIVHope -- Got to the Race Across America
By Steven Berveling

June 10, 2011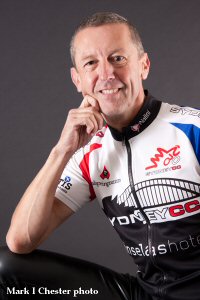 Steven Berveling
I write this on the eve of getting on a plane from Sydney to LA, to do the final preparations for our Team4HIVHope. The Race Across America, starting on June 18, 2011. The Race will take about 7 days, non-stop (day and night). We climb approximately 100,000 feet during the Race. The Team will cover about 450-500 miles per day in relay format.
2011 is the 30th anniversary of the Race as well as the 30th anniversary of the first diagnoses of AIDS. So it is very timely that we are able to do the Race this year.
I had been aware of the Race Across America for some time, but it was outside my reach whilst the visa restrictions into the USA discriminated against persons living with HIV.
However, when the visa restrictions to enter the USA relaxed in January 2010, the possibility of doing the Race became real. It was then a short step to dream of a team with HIV+ riders to do the Race Across America. But to turn that dream into reality had its own huge challenges -- finding racers willing to do the Race was very difficult. I searched in Australia, New Zealand, Singapore, Malaysia, South Africa, United Kingdom, Germany, Netherlands, and France.
I found a very capable rider in London, but despite the visa relaxation, he remained unwilling to disclose his HIV status to the USA government. Cycling South Africa would not agree to putting a notice on its website about my search for HIV+ riders -- the reason that I was eventually given was "HIV is a very sensitive issue in our country" (precisely a reason why we want to do the Race!).
After a 12-month search, our Team consists of cyclists from Australia (me), Don from Vancouver and Jim and Cisco from New York. Cisco does not have HIV, and says "even though I'm not infected with HIV, I, like everyone else, is affected by HIV."
In addition to the 4 racers, we have a crew of 14, 2 follow vehicles, an RV, and a small "gopher" car. Without the crew we cannot do the Race!
Our reasons for competing in the Race Across America are:
to confirm that with the medications, HIV need not be a barrier to very tough endurance sports (or anything else for that matter);
to encourage increased equitable access to the medications;
to reduce stigma and discrimination against persons living with HIV.
There are also personal reasons -- I recognise that I get stigmatised because I live with HIV, and that stigma affects how I see my own self worth. I want to show that despite me having HIV, I can do these tough sport events like anyone else.
Advertisement
I knew that as soon as I had decided to get together a team of HIV+ riders to do the Race Across America, I had to come out about my HIV status. The USA organisation Positive Pedalers helped enormously -- I was able to be in San Francisco when that city declared 30 April 2010 as "Positive Pedalers' Day": to stand on the City Hall steps with so many other cyclists living with HIV was enormously empowering. (Positive Pedalers helped in another major way as well -- through them came our Team member Jim, who had similarly long dreamed of doing RAAM; kindred spirits!).
But similarly empowering was coming out at work: usually when someone has a birthday we have a cake, but for my birthday I gave a (planned) speech. There were people with whom I have worked for over 20 years, who had no idea that I have HIV. Whilst that speech was very hard for me to make, it also lifted a huge weight off my shoulders.
Training for the Race has been huge: we each ride up to 1,000 miles per month. In the U.S.'s winter, Jim and Cisco in New York have been riding in the snow! As a warm-up for the Race, Don from Vancouver competed in the Texas Ironman competition in May, and qualified for the Ironman World Championships in Kona, Hawaii, later this year.
I've been lucky in Australia: the weather has been good. I ride with a large Club here in Sydney, but even the macho diehards have been shaking their heads -- after our Club rides I go and do another 60 miles (as you do!).
During the Race, only one rider will be cycling at any one time. We will divide into 2 groups of 2 riders, with each group being responsible for a 4 hour time slot. During that time slot, the riders alternate, each cycling for 20 40 minutes at a time, depending on the climate and terrain. Then after 4 hours, they have go into the RV, only to resurface after a 4 hour rest.
I was very fortunate to have a national Australian TV current affairs programme do a short story on me, the Race Across America and our Team4HIVHope. It was a great story to confirm that with the medications, HIV is not an obstacle to doing tough endurance sports or anything else.
I look forward to blogging more about the Race, and about how we perform. We have all trained very hard, and we have no choice but to finish. We look forward very much to Annapolis!
Follow Us: You can follow our progress in the Race through this blog, the Race Website (go to "results") or any of the sites and feeds listed in the right sidebar.
Steven Berveling was born in The Netherlands and lives in Sydney, Australia. He has been HIV positive since 6 May 1996, when he was hospitalised for a very serious seroconversion illness. He works as a lawyer, and lives with his partner of 22 years, Brian, and their 11 dogs (!). Needless to say, he cycles a lot! He makes numerous public speeches in Australia about living with HIV, with the underlying message being that with the medications you can live Life! with HIV, and if you don't get HIV, please make sure that you love and support those around you who do.
Get e-mail notifications every time Team4HIVHope's blog is updated.
---
Add Your Comment:
(Please note: Your name and comment will be public, and may even show up in
Internet search results. Be careful when providing personal information! Before
adding your comment, please
read TheBody.com's Comment Policy
.)