5 Key Questions From the Live White House Discussion on HIV/AIDS
By Candace Y.A. Montague

June 2, 2011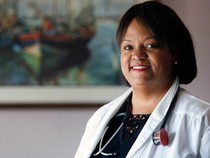 U.S. Surgeon General Dr. Regina Benjamin joined the panel discussion on AIDS. Credits: bumpshack.com.
The White House hosted an open discussion about HIV/AIDS yesterday in recognition of the 30th anniversary of the publishing of a Morbidity and Mortality Weekly Report that highlighted pneumocystis pneumonia found in five gay men in Los Angeles. This connection soon led to the discovery of HIV and subsequently AIDS in America. Suregeon General Dr. Regina Benjamin, Jeff Crowley from the Office of National AIDS Policy, and Dr. Carl Dieffenbach from the National Institute of Allergy and Infectious Diseases at NIH sat down for Open for Questions: 30 years of AIDS to take questions from Facebook and email about AIDS in America. Here are a few key questions posted from the public and excerpts of the answers that were provided.
Why isn't the federal government focused on stopping the pandemic of HIV and AIDS in America? Across the Southern states, the focus has been on prevention.
"One of the key goals of the National HIV Strategy is that funding must follow the epidemic. So we're doing work at CDC and Housing and Urban Development where we have the Housing of People With AIDS Program to adjust the funding to make sure we [provide] funding based on where we have the most people living with HIV. We're also trying to take advantage of new research results to make sure that not only are we investing in HIV prevention but we're focusing on the interventions that are most likely to reduce transmission."
Are there efforts under way to increase the research funding for HIV and aging? (In light of the growing number of people living longer with the disease.)
Advertisement
"From a research perspective this is a very important area. The first [point] is to determine what is the mechanism, the driver behind this premature aging syndrome. And at the same time try to develop therapy and additional treatment to help mitigate these consequences. One of the key areas that may actually help a lot is starting HIV therapy earlier."
What are the key steps to preventing HIV among young people and people of color?
"There is a real focus on identifying strategies that work, testing, and getting people into care. But we're really targeting populations at greatest risk. People of color, gay and bisexual men, and some groups of young people. There are also some very exciting new surveillance tools. There is a tool that scientists can use to really track where infections are happening in a community, find out if we are effectively getting people with HIV into therapy, and it's a tool we can really use to help address some of these disparities."
Will there ever be a cure?
"Going back in the history of AIDS, there was a sense of optimism with the discovery of the triple combination, that maybe we can achieve a cure within a very short period of time. What we discovered is that the virus still persists in the body. What we need to do is target those particular cells either by immune efforts or by directly targeting and killing those cells. NIH is making a significant investment in this area now because there has actually been a case of an individual who has been cured. The process he went through could not be applied to others. But because he went through this procedure so successfully, it provides a little bit of a road map of how a cure could be achieved."
What's the current state of federal support for mental health and substance abuse in HIV prevention and treatment?
"One of the things that is potentially exciting is when the affordable Care Act is implemented. As we have more people that have access to insurance coverage that could help us make gains. But also as people have access to substance treatment that also will help us with our prevention goals but also better treat people with HIV that have co-occuring conditions."
Side note: Can we also taking a deeper look at needle exchange programs and its effectiveness in prevention? In DC, this program continues to be blocked when it could be a significant component to lowering the infection rates.
To see the entire broadcast (34 minutes), click on the video link.
Get e-mail notifications every time Candace's blog is updated.
---
| | |
| --- | --- |
| No comments have been made. | |
Add Your Comment:
(Please note: Your name and comment will be public, and may even show up in
Internet search results. Be careful when providing personal information! Before
adding your comment, please
read TheBody.com's Comment Policy
.)