Listen to Audio (42 min.)

When Oliver W. Martin III was diagnosed in 1986 with HIV, then called GRID (gay-related immunodeficiency disease), he wasn't alone -- his younger brother was diagnosed at the same time. But for a decade, the two of them told almost no one. "We didn't want to put [our family] through living with the thought that we were going to be dead in a week," says Oliver. Only when effective HIV treatment made a longer life with HIV a possibility, did they share their diagnoses with most members of their large, tightly-knit family.
Since that time, Oliver's been a staunch advocate for HIV prevention and sexuality education in faith communities. He's the founder and chief executive of Conscious Contact of New York, Inc., and the general secretary for the New York City Faith in Action for HIV/AIDS Prevention, Care and Education Coalition. This summer, at the 2011 National HIV Prevention Conference, he'll conduct a roundtable on building collaborative, inclusive faith and secular community partnerships.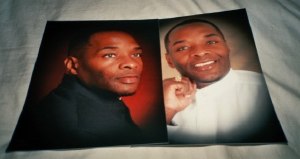 Oliver W. Martin III
Oliver and I spoke in July 2008; I caught up with him recently, and the updates he's given to his story appear in the form of editor's notes below.
Oliver, welcome to This Positive Life.
Welcome, hello!
Thank you so much for joining us today. Can you start by describing how you found out you were HIV positive?
During the mid-1980s, when they started talking about GRID, I thought, "Maybe I should just go and get a physical." That is when I found out I was HIV positive -- or, had GRID, as they were calling it in that moment. They were just changing over to AIDS and HIV.
That was in 1986, so it was the early days. How old were you then?
I was 23 or 24.
What was the first thing that you thought when you found out you were HIV positive, or had GRID?
I was quite frightened, because this was back in the day when people were just dying left and right. I had some friends that were quite ill, so I just assumed, "Oh, man, I guess I will be next." Then my brother took a test too, because we went together, and he tested positive also. It was just a very frightening time for both of us.
Advertisement
How old was your brother at the time he tested positive?
Four years younger than me, so 19 or 20. We were both quite frightened; and we were just happy that we had each other to talk to, because this was a time when no one knew anything about this disease.
Did you have a sense at the time that you were at risk for HIV? Did that have anything to do with your going to get tested?
To a certain extent, because it was at the same time that ACT UP [AIDS Coalition to Unleash Power] had just started and was fairly visible. A piece in one of the national magazines had come out and it kind of frightened us, because it was really just talking about gay men and Haitians being at risk, and we just thought, "Maybe we should take a test, just to see what that's about."
Are you and your brother both gay?
I would say that we're both bisexuals. Or sexual. [Laughs.] There are different labels; we didn't really grow up with them, but we've come to try to work with them a little bit. I would say that we are both probably bisexual.
We're brothers, and we're also good friends, so we both knew the crowds we were both running around with. You know, it's a whole crowd thing. Let's all go get a physical and see if we're okay, since we did have some friends that were ill. We still didn't know what that was about at that time.
About how long did that initial feeling of fear and not knowing last?
For me, it really lasted probably a decade. Because after I found out that I had this disease, it was then a matter of, "Well, what do we do with it or not do with it?" In my case, and that of my brother's, it was "not do with it," because we had some misgivings about medication at that time. It just seemed that everything was so experimental; and we weren't getting ill, so we just decided not to do anything. But not doing anything gave me a great cause to contemplate my own mortality.
"It wasn't until about a decade later, when they started coming out with protease inhibitors and we started talking about HIV and then AIDS … that I started to feel more comfortable. There were more people talking about it by then, more organizations working in the field, the government was participating in it."
It wasn't until about a decade later, when they started coming out with protease inhibitors and we started talking about HIV and then AIDS, and the differences between the two, that I started to feel more comfortable. There were more people talking about it by then, more organizations working in the field, the government was participating in it through the CDC [U.S. Centers for Disease Control and Prevention] and all our health institutions. It just gave me a different feeling, a different level of comfort, around 1994 or 1995. There was still some fear, but not as fearful.
Looking back to the time around your HIV diagnosis, what do you think put you at risk at the time?
I would say, for myself, it was just unprotected sexual intercourse. It may have been with someone who was an intravenous drug user and I just didn't know it.
So you don't know who specifically you got HIV from?
That I don't know.
What was one of the first things you did that helped you come to terms with your diagnosis?
When I started to be less fearful was when I decided that I would go on the antiretroviral medications.
Can you remember what your first regimen was?
Oh, yes. Actually, it's still the same regimen as it was at the beginning. It hasn't changed. It's Kaletra [lopinavir/ritonavir], Videx [didanosine, ddI], and Viread [tenofovir].
What had happened to me was, I went for nearly a whole decade without being sick on any level, without having any issues outside of the fact that my T-cell count was low. Outside of that, I didn't have any other issues.
Then I was hospitalized because I got PCP [pneumocystis pneumonia]. That's when I had a consultation with my doctor at the time. We discussed the new medications that were different than AZT [Retrovir, zidovudine]. That's when I said, I'll start with these. As I started with them, my system just started to rebound itself. It took about two years -- up until about 1998 -- until I was feeling fit again. The regimen hasn't changed at all, but my health has been fairly stable.
The only side effect that I've had is a slight case of neuropathy, and on occasion I do have uncontrollable diarrhea, but it's not a daily occurrence. I do take another pill for that, loperamide [Imodium], which seems to help when it's extremely active. I would say maybe once a month I'll go through a couple of days where it's rough.
How have you found the doctors and HIV specialists that you've worked with over the years?
My doctors have been with New York-Presbyterian, The University Hospitals of Columbia and Cornell -- the Rogers Clinic of the Center for Special Studies. It was sort of neat because, living in Manhattan, I had the opportunity to go and visit a couple of different centers in the mid-'90s. I just happened to like this one, and it was fairly new, so it wasn't as crowded.
I went in and I registered. They assigned a doctor to me and she was my doctor for seven years until she moved from that base. Not that much turnover, so that's been pretty good.
What was your relationship like with your past few doctors?
My relationships with doctors have been pretty good because of the training that I've had on learning what to ask, being involved in my own care and being my own advocate. I feel that I've gotten pretty good care because I've been engaged in it.
Let's go back for a moment and talk about your family relationships. You went to get tested with your brother and you both tested positive. That's really huge. He was the first person who knew about your diagnosis?
Yes. We were the first person to know about each other's diagnoses.
Who were the next people that you told?
The next person that I told was probably one of my best friends.
How did you start that conversation?
Well, because it was my best friend, I just told him. [Laughs.] He was one of my friends from growing up. We went to kindergarten through junior high and high school together. He was really a good friend. There were no real secrets between us, so I just told him -- him and his wife, actually, who were just really good friends. I had a small circle of friends, so honesty is just something we had always been a part of.
I would say friends were first. Family was a little different, though. My brother and I decided not to share it with anyone in our family until maybe six or seven years later. We have one younger brother; he's younger than the two of us, and he knew. The three of us knew and we shared it with everybody around 1991, 1992. I have a relatively large family.