AIDS at 30: Views From the Community -- David Phillips
By Candace Y.A. Montague

May 31, 2011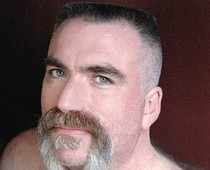 We're using the wrong language to address this disease. Credits: David Phillips.
On June 5, 2011, the AIDS community will recognize 30 years since the publication of the report from the Centers for Disease Control's Morbidity and Mortality Weekly Report noting pneumocystis pneumonia found in a cluster of gay men in Los Angeles. Years later, we are now facing and fighting a virus that has claimed more than a million lives around the world. This week, I will highlight a few Washingtonians who have witnessed or experienced the devastation and lived to tell about it.
First guest is David Phillips, an IT technician who has been living with HIV since September 4, 1982. David describes himself as "Living with HIV 28+ years. Ace Human Lab Rat." David says we are using the wrong language to talk about this virus and it's not helping us overcome it at all.
As we approach June 5, the media and government and HIV service organizations have heralded the culmination of "30 Years of HIV/AIDS," a concept that is fraught with inaccuracy and naiveté and one that perpetuates the homophobia and stigma characterizing our struggle thus far against a microscopic foe. Tying the advent of HIV disease to the 1981 CDC MMWR report of a cluster of Gay men suffering from unusual opportunistic infections denies the biological evidence of the thousands of Africans and Caribbeans and many Americans who had lived and died with HIV prior to that time. Further, the continued use of "HIV/AIDS" incorrectly promotes the perceptions that HIV infection equals "AIDS" and that HIV infection is destined to result in advanced HIV disease, even in the age of effective anti-retroviral therapy. These perceptions foster stigma towards and among people living with HIV, and they create a mental barrier that many newly diagnosed HIVers struggle to overcome. When medicine tells new HIVers that they will likely lead long and productive lives in spite of the virus, our society must describe their illness in a similar way.

On Day 10,502 of my personal battle with HIV, let us resolve to use language and historical references regarding HIV disease that accurately portray the evolution of the pandemic and the impact of HIV on individuals and communities. The memory of the fallen demands it, and the instruction and encouragement of our children and friends require it.
Feel free to post your comments about David's post and the language of this disease.
Be on the look out for more entries about AIDS at 30 this week.
Get e-mail notifications every time Candace's blog is updated.
---
| | |
| --- | --- |
| No comments have been made. | |
Add Your Comment:
(Please note: Your name and comment will be public, and may even show up in
Internet search results. Be careful when providing personal information! Before
adding your comment, please
read TheBody.com's Comment Policy
.)