Two pioneers for people with AIDS, Michael Callan on the East Coast and Dan Turner on the West Coast, decided to record the beginnings of the PWA movement while it was still fresh in their memories. Join them and their colleague, photographer Jane Rosette, in a written and pictorial journey of the way it was in the 1980s when the HIV and AIDS movement was young.

We thought it important to record the founding of the People With AIDS (PWA) self-empowerment movement now, while our memories are not totally fogged over. Many who were there are gone now, and those of us who are left feel a responsibility to those generations of People With AIDS who will follow to explain how a movement was born; a movement based on the breathtakingly obvious concept that People With AIDS ought to participate in the decisions that directly affect our lives.
The founding of the PWA self-empowerment movement is largely a tale of two cities: San Francisco and New York. It is sad that the first "comprehensive" history of AIDS in America, And the Band Played On, omits or demeans the PWA self-empowerment movement. And so, to the best of our abilities, we will tell our own history herein so that future generations may understand how we got here from there.
The Spirit of San Francisco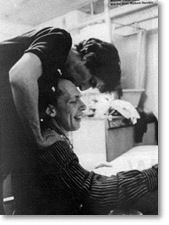 Bobbi Campbell, diagnosed in September 1981, was one of San Francisco's first cases of AIDS. He was the first person with AIDS to go public as a PWA. At the beginning of 1982, Bobbi began an important column in the
San Francisco Sentinel
that explained what he was going through and offered recommendations for others. Dan Turner was diagnosed in February 1982. Dr. Marcus Conant suggested that Bobbi and Dan get together to share their experiences. They met at Dan's house in the Castro hills. The seed of what was to become People With AIDS San Francisco -- indeed, the concept of PWA self-empowerment itself, had been planted. Dan remembered clearly that Bobbi prominently sported a button with a simple but powerful message: "SURVIVE."
Cleve Jones asked Dan to speak at Harvey Milk's birthday party. Castro Street was closed off and Dan gave his first speech as a publicly-identified PWA. His message contained three points: "Stay informed. Be cautious, but not paranoid. And be supportive." The crowd cheered when Dan announced that he had just run a marathon after completing nine chemotherapy treatments. This was the beginning of many public speaking engagements for Dan and Bobbi.
Two important events took place at about the same time. Dr. Conant and Dr. Paul Volberding had requested that Bobbi and Dan attend what proved to be the founding meeting of the KS/AIDS Foundation in San Francisco. (The KS/AIDS Foundation had grown out of the AIDS Hotline founded by Cleve Jones and Dr. Conant.)
Shortly thereafter, Bobbi and Dan invited a few other people with AIDS to attend a meeting of what became People With AIDS San Francisco, the first organization of, for, and by people with AIDS (and ARC). In the early days, Dan, Bobbi and a few others became "star cases," called upon by doctors and the media to do many public speaking engagements. Out of this grew the important notion that PWAs should be an integral part of AIDS service organizations. As a result, People With AIDS San Francisco was asked to choose which PWAs should be on which boards. Bobbi Campbell was added to the KS/AIDS Foundation's national Board of Directors and Dan Turner was elected to the San Francisco KS/AIDS Foundation Board. Bobby Reynolds, who had temporarily dropped out of the early PWA San Francisco group, was eventually added to the board of the Shanti Project.
Advertisement
On May 2, 1983, the first of many candlelight marches, led and organized by people with AIDS, took place. The goal of the march was to bring attention to the plight of People With AIDS and to remember those who had died. PWAs who organized the march included Gary Walsh, Mark Feldman, Chuck Morris, and Bobbi Campbell (who, according to Dan Turner's diary, gave the "Hope" speech). This march was the first time PWAs marched behind a banner proclaiming what was to become the motto of the PWA self-empowerment movement: "FIGHTING FOR OUR LIVES."
On May 23rd, People With AIDS San Francisco met and voted to send Dan Turner and Bobbi Campbell to a conference in Denver in June 1983. This momentous meeting provided the spark for what was to become the PWA self-empowerment movement. The "FIGHTING FOR OUR LIVES" banner made its way to Denver for the Fifth National Lesbian/Gay Health Conference, which included the Second National Forum on AIDS and the First National American Association of Physicians For Human Rights (AAPHR) Symposium. It was at this historic gathering that the founding of the national PWA movement occurred and the banner was used in the presentation of the "Denver principles."
Meanwhile, Back In New York ...
It is important to remember that AIDS was not always called AIDS. In the early days, a number of names for this plague were proposed. But, in late 1981 and early 1982, the name of choice was either G.R.I.D. (Gay-Related Immune Deficiency) or simply "it." One had "it." "GRID," and eventually "AIDS," were terms sloppily used to cover conditions ranging from lymphadenopathy through what is now called AlDS-Related Complex (ARC) to full-blown or "frank" AIDS. This is an important point to remember, since many of those who must be considered founders of the PWA self-empowerment movement turned out not to have what we would now call frank AIDS. But at the time, no one much cared about the distinctions and, as it proved, the energy of those with lymphadenopathy and ARC provided much needed continuity from generation to generation.
One of the first New York City groups of People With AIDS was formed by Michael Callan and Richard Berkowitz. The call for a group for PWAs came as a result of their controversial article in the New York Native in November 1982 entitled "We Know Who We Are." The group was called Gay Men With AIDS. The stated goal of GMWA was "to support each other by sharing our personal experiences, our strength, and our hope." This turned out to be primarily an emotional support group, as opposed to a political group. Also in the fall of 1982, Mike and Richard met several other people with AIDS at one of the first, if not the first, support groups in New York City. It was primarily peer-run, with non-intrusive assistance from Dr. Stuart Nichols of Beth Israel Medical Center. This support group included Phil Lanzaratta, the "granddaddy" of the New York PWA movement. Phil was New York City's first publicly-identified PWA. He did a number of TV and print interviews and wrote a seminal firsthand account of living with AIDS for Christopher Street magazine. Again, Stuart Nichols' group was primarily an emotional support group, not a political group. It seemed that we all had our hands full staying alive; it didn't occur to us to organize politically.
Some time in the summer or late fall of 1982, several of us PWAs (note: the acronym "PWA" hadn't been invented yet; we were "AIDS victims" or "AIDS patients" back then) became aware of the New York AIDS Network, a group that met Tuesday mornings at the ungodly hour of 7:00 am at the East Village offices of the Community Health Project. The Network had been formed by Dr. Harold Kooden, Virginia Apuzzo and Dr. Roger Enlow, and had grown to provide the first organized political forum in which to share information and concerns about AIDS.
Several PWAs in New York were vaguely aware of Bobbi Campbell in San Francisco. He was the first person of whom many of us had ever heard who was courageous -- or foolish -- enough to publicly self-identify as a gay man with AIDS. We even he heard he had a weekly column in the Sentinel! How progressive those San Francisco queens are, we thought. We continued to follow his career sporadically in out-of-date copies of the Sentinel, purchased occasionally at the Oscar Wilde Memorial Bookstore. New York PWAs and PWARCs began to express growing frustration at attending too many GMHC forums in which those of us with AIDS would sit silently in the audience and hear doctors, nurses, lawyers, insurance experts, and social workers tell us what it was like to have AIDS. It seemed to occur to several of us simultaneously, including Artie Felson, Tom Nasrallah, Bill Burke, Bob Cecchi, David Goldstein, Pete Nalbandian, John Bernd, and others, that there was something wrong with this picture. The "real experts," we realized, weren't up there. It would be akin to having a conference on sickle cell anemia in which no blacks were asked to participate.
At a momentous AIDS Network meeting in late spring of 1983, plans were being made to attend the Second National AIDS Forum, sponsored by the Lesbian and Gay Health Education Foundation. Word somehow reached us that Bobbi Campbell and others in San Francisco were urging that the major AIDS service provider organizations in the various cities sponsor one or more gay men with AIDS and pay all their expenses to enable them to attend the conference.
The idea struck like a bolt of lightning. Until then, it simply hadn't occurred to those of us in New York who were diagnosed that we could be anything more than the passive recipients of the genuine care and concern of those who hadn't (yet) been diagnosed. As soon as the concept of PWAs representing themselves was proposed, the idea caught on like wildfire (with small pockets of resistance coming from some factions at GMHC). Part of the widespread acceptance of the notion of self-empowerment must be attributed to lessons learned from the feminist and civil rights struggles. Many of the earliest and most vocal supporters of the right to self-empowerment were the lesbians and feminists among the AIDS Network attendees. Credit must go to Alan Long (who recently died from AIDS) who, though healthy at the time, thought it was sufficiently important to support self-empowerment for PWAs that he personally underwrote the expense of three of us to attend the Denver conference.